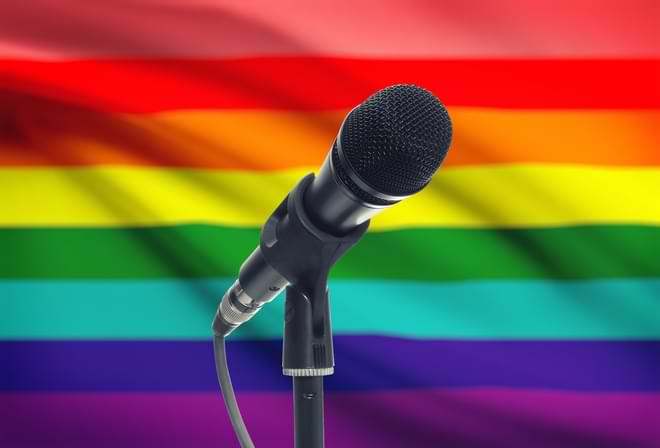 A microphone on a stand in front of a rainbow LGBTQ flag. By niyazz/stock.adobe.com
Andy Stanley responds to the controversy around the Unconditional Conference
The Unconditional Conference hosted by Andy Stanley and North Point Community Church concluded last Friday, and details are beginning to emerge about what was taught across the two-day event.

The conference was billed as a chance "for parents of LGBTQ+ children and for ministry leaders looking to discover ways to support parents and LGBTQ+ children in their churches." It appears fulfilling that promise was the focus as, in Stanley's words, the event was more "pastoral" than theological in nature.

Yet, as someone who attended the conference described, underlying that guidance was a consistent assumption that the best response to those who identify as LGBTQ+ is "affirming them for who they are, in order to retain 'influence' and a relationship with them."

And while it is difficult to speak to specifics since video and audio recordings were strictly prohibited, Stanley spent Sunday's sermon explaining the church's stance and speaking to the controversy that surrounded the event.

While the sermon, like the conference, was not broadcast, recordings were made by some in attendance. North Point has said they will release the full recording this week—until then, it can be found in the link below—and it's worth listening to when made available. While there is much with which I disagree regarding the implications of Stanley's message, hearing the heart with which he said it is helpful for responding to it in a way that is fair and honors God.
In other news
1. This just-released episode of The Denison Forum Podcast is a must-listen. Hear what God is doing in Cuba and how "the early church is still walking and running around the streets of Cuba."

2. Do you know about The Greatest Commandment? It's our latest free resource for you: a self-paced online course on loving God and loving others well.

3. Are you a pastor or church leader? Be sure to subscribe to A Pastor's View today so you can receive our weekly email encouraging church leaders every Tuesday.