Dec 21, 2020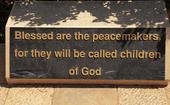 From the writings of the Rev. Billy Graham
Q: What are beatitudes and will they bring happiness if obeyed? — S.M.
A: Perhaps the most famous sermon is what Jesus preached — the Sermon on the Mount. This is where we find the Beatitudes. — Christ was giving a formula for personal happiness that applied to anyone, no matter what his race, geographical situation, age, or circumstance! — The beloved King James Version of this passage speaks of the blessedness of these truths. — In more modern translations the word "happy" or "happiness" is used, but nothing is more beautiful than the word "blessed."
Jesus shares almost the whole depth and scope of His teaching. Someone has said, "The character which we find in the Beatitudes is beyond all question, nothing less than our Lord's own character put into words. — It is a description set side by side with an example."
Applying these principles can enrich life greater than anything; they are timeless and universal in nature. Just as Jesus brought hope and new life to those who first gathered in Galilee to hear the Sermon on the Mount, these same words He spoke can bring hope and new life to us today as we dwell on, and put into practice, the wisdom and truth declared. True happiness is summed up in walking with Jesus Christ, living according to the truth He has set forth, and looking to Jesus, the author and finisher of our faith (Hebrews 12:2).
Throughout Scripture the Lord speaks of blessing His people. — "Blessed are those who hear the word of God and keep it!" (Luke 11:28). — When those who belong to Christ exhibit obedience to His word, the Lord Himself is blessed. The psalmist expressed it perfectly: "Sing to the Lord, bless His name; proclaim the good news of His salvation…. Declare His glory among the nations, His wonders among all peoples. For the Lord is great and greatly to be praised" (Psalm 96:2-4).
========
(This column is based on the words and writings of the late Rev. Billy Graham.)
©2020 Billy Graham Literary Trust. Distributed by Tribune Content Agency, LLC.
(c)2020 BILLY GRAHAM DISTRIBUTED BY TRIBUNE MEDIA SERVICES, INC.