Thousands of people are joining forces to help a 91-year-old veteran stay in his beloved home.
John Potter, who served in the Aleutian Islands campaign in World War II, is allegedly being evicted from his Zaleski, Ohio, home by his only daughter, according to a crowd funding page set up by his granddaughter. Potter has been living in the house since building it more than five decades ago.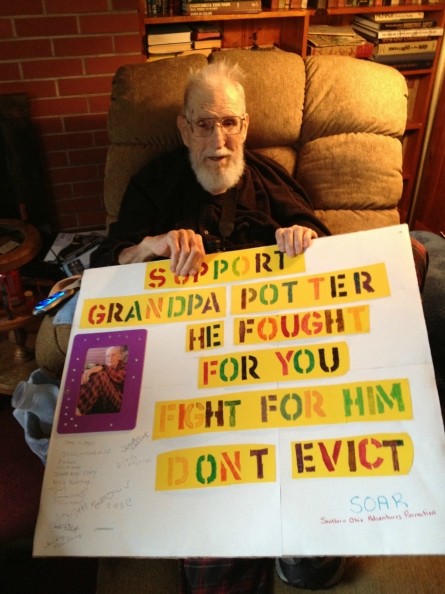 (John Potter holds a sign asking for support. Credit: GoFundMe/GrandpaJohnJPotter)
In 2004, 
Potter and his late wife gave the general power of attorney
 to their daughter lest their health failed, according to the description on GoFundMe. However, that same year, the woman is said to have used her power of attorney to transfer her parents' house into her own name.
She didn't tell her family members of the transfer and it was only discovered in 2010, when she allegedly tried to have her dad declared legally incompetent and put into a nursing home "against his will," the description continues.
ABC News writes:
Potter…sued to get the home back, arguing that his daughter had transferred the deed to herself illegally because those with the power of attorney are not permitted to transfer assets to themselves from the estate they oversee.

Potter won in Vinton County Court, but an appeals court ruled last year that the statute of limitations of four years had passed on the accusation of fraud and thus the deed could not be handed back to Potter.
Earlier this year, Potter's daughter sent her father an eviction notice. He will likely be forced out of his home in June.
"I just cannot believe my daughter would ever do anything like that to me," he told ABC News.
Jaclyn Fraley, Potter's granddaughter, said she's shocked her mother would force her grandfather from his home.
"It is a sad day in our society, when there are no laws that can protect the rights and home of a 91-year-man," Fraley said on the page. "John Potter just wants to live what remaining life he has left in the home he built with his wife, in which he raised his family, and has lived for the last 56 years."
While Fraley's mother has yet to speak publicly about her dad and the issue of his home, her lawyer, Lorene Johnston, told AOL Real Estate last month that Potter and Fraley are merely "attempting to stir up public sentiment for themselves," calling the upcoming hearing "a simple eviction process for someone who doesn't own the homeand doesn't pay any rent."
About a month ago, Fraley, who moved to Columbus, Ohio, from San Diego to be closer to her grandfather, set up a fundraising campaign online, pleading for strangers to help save her grandfather's house.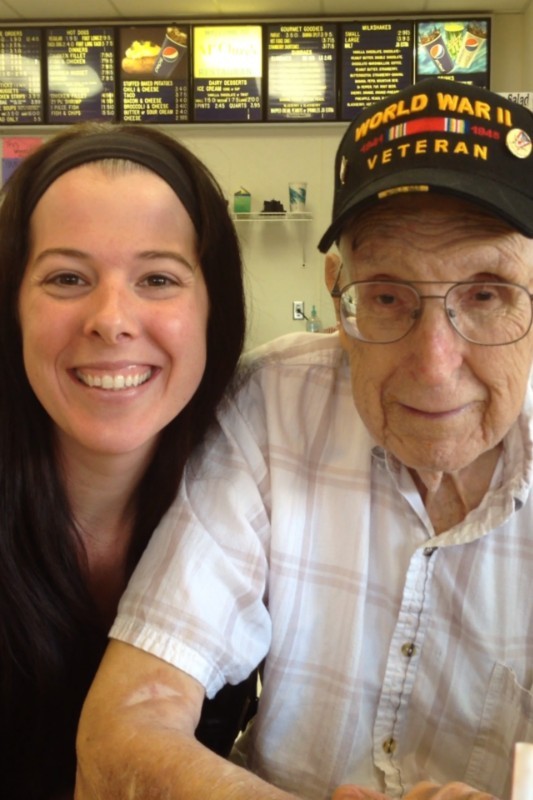 (Jaclyn Fraley and her grandfather, John Potter. Photo credit: Gofundme.com/GrandpaJohnJPotter)
"Any donation you can give helps, please help my grandfather enjoy what time he has left in the home he built, which holds his memories of a full and wonderful life," Fraley wrote on the page.
Throughout the past few weeks, flocks of strangers have complied. Thus far, more than 4,700 people have donated more than $126,000 to the cause. $125,000 was Fraley's original goal.
"My grandfather is a 92 year old WWII veteran as well, and he still lives in the home his parents built! He said he'll be damned if he dies anywhere other than his home! I wish the best of luck to you all and pray for you to meet your goal! Keep doing what you're doing, and give your [grandpa] hug for me," one well-wisher wrote this week after making a donation.
Fraley says she and her grandfather have been simply blown away by the outpouring of encouragement.
"We are so thankful for all of your donations, love and support," she wrote on Wednesday. "When all of this started, we were feeling so alone in this fight, but not anymore. Everyone who has donated or even just commented has lifted us up and shown us love that has brought Grandpa and I to tears more than once."
To learn more about Grandpa Potter, visit his GoFundMe page and watch this video of him below: