At their best, sport stars allow us a respite from our daily worries and personal tumult. Dodgers outfielder Matt Kemp was just the latest to lift the spirits of one particular fan while giving the rest of us a reason to smile—or get a little misty.
Kemp—currently mired in a lackluster season—was apparently informed by Dodgers third base coach Tim Wallach that there was a young man who wanted to meet him.
Kemp did much more than that.
The video below was spotted by blogger Roberto Baly of Vin Scully is My Homeboyand features Kemp giving everything from a signed ball to the shirt off his back to a fan.
As of this writing, there isn't a great deal known about the fan who received a treasure trove of Kemp paraphernalia after a recent Dodgers vs. Giants game at AT&T Park.
We simply have to go with what we can find in the description and comments from the original YouTube post. Here is what the uploader had to offer:
Matt Kemp is such a great person. He came over after the game and made one of my best friend's night :) He's fighting a tough battle and this was such a great gift by Matt Kemp ! I'll never forget this.
In the comments, the uploader gives a bit more information:
Was very fortunate to have my friend take me. He was the one meeting Matt :) My friends family put money together for those seats. So happy I was able to go.

The third base coach told his Dad he would see if he would come over after the game and he ends up doing all this!
A sentiment that has been echoed across the web is that Kemp hardly needed to go that far to make the fan's night. Instead, after a Dodgers loss during a season wherein Kemp is batting .265 with a single home run, the sports star decided to make it all about the fan.
This, however, is just the latest class act from a league of gentlemen.
Some of you might remember the home run Todd Frazier hit for the Reds' beloved bat boy. If not, I have absolutely no problem reminding you.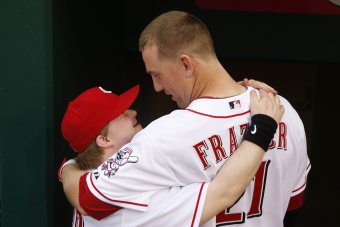 David Kohl-USA TODAY Sports
Yahoo! Sports reported on a home run hit by Frazier back in April that was requested by Ted Kremer, a 29-year-old guest bat boy with Down syndrome.
The team asked him back and Kramer wasted no time delivering his infectious joy. Frazier recalls, "He's so funny, he said, 'C'mon, hit me a home run, I love you.' I said, 'I love you too, I'll hit you one.'"
The Reds slugger made good on the promise, hitting a dinger off Miami Marlins pitcher John Maine. Video footage of the moment is viewable at MLB.com.
A similar story went down over the weekend. Yahoo! Sports reports that the Philadelphia Phillies held a Teacher Appreciation Night at Citizens Bank Park on Friday. That's when slugger Ryan Howard met A.J., a seven-year-old boy who had nominated his braille teacher.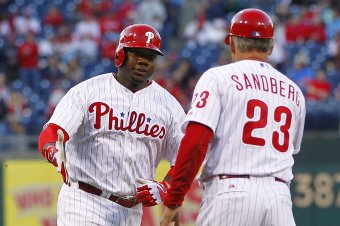 Rich Schultz/Getty Images
The young Phillies fan with Lebercongenital amaurosis (LCA) gave the star a wristband to raise awareness for his condition and then offered the following request: "I want you to hit a home run for me tonight."
Sure enough, the star first baseman delivered, going yard into the right-field seats.
Yahoo! Sports fills us in on the best part: "Oh my gosh! That was probably for me," was A.J.'s reaction to the home run when interviewed on the Phillies broadcast.
I am sure there are other fine tales from the diamond I may be forgetting, and I certainly welcome you to remedy that in the comments section below.
Every once in a while, we are reminded how truly wonderful sports and the athletes who play them can be. Forget the box scores, contracts and tiresome debates.
Sometimes, it's just about the fans.