Presented by Facebook
© The New York Times via AP, Pool
Welcome to The Hill's Morning Report. It is Thursday! ☘️St. Patrick's Day! We get you up to speed on the most important developments in politics and policy, plus trends to watch. Alexis Simendinger and Al Weaver are the co-creators. Readers can find us on Twitter @asimendinger and @alweaver22. Please recommend the Morning Report to friends and let us know what you think. CLICK HERE to subscribe!
Ukrainian President Volodymyr Zelensky issued an impassioned address to Congress about the grave state of his nation's fight against Russia as the two sides escalated talks to end the war.

Zelensky, speaking exactly three weeks after Russia invaded Ukraine, took his plea to members of Congress on Wednesday in a bid for increased support for his country as Moscow continues its attacks, including on civilians (The Hill). The Ukrainian leader, who was greeted with a standing ovation, re-upped calls for a no-fly zone over his country, going so far as to invoke Pearl Harbor and 9/11 and to show graphic images of Ukraine's dead (The Associated Press).

"Right now, the destiny of our country is being decided, the destiny of our people, whether Ukrainians will be free, whether they will be able to preserve their democracy," Zelensky said in the virtual address. "Russia has turned the Ukrainian sky into a source of death for thousands of people."

In addition to a no-fly zone, which the U.S. and NATO allies have ruled out, Zelensky pressed for delivery of Soviet-era S-300 air defense systems to try to repel Russian air strikes.

President Biden responded soon after Zelensky's speech by unveiling $800 million in additional U.S. military assistance, which includes anti-aircraft defenses, drones and other weaponry (The Hill). The funds are separate from the $13.6 billion in humanitarian and military aid approved by Congress last week.

The Hill: Biden on Wednesday assailed Russian President Vladimir Putin as a "war criminal." The Associated Press explains who gets to decide if Biden's verdict is correct.

Although the White House opposes a no-fly zone because of fears it could provoke Putin to dramatically escalate the war, some U.S. lawmakers remain open to the idea. Congress's action is unclear.

"It remains my view that putting — if that means putting U.S. troops or pilots in Ukraine, I think the answer is no," Senate Minority Leader Mitch McConnell (R-Ky.) said about a no-fly zone.

Zelensky, who has appealed to Canadians and Great Britain in similar recent presentations, pleaded with the United States to do more, and lawmakers in both parties say they are receptive to Ukraine's plight.

"I think his remarks this morning created further impetus to do more. And so we're trying to figure out what that more is," said Sen. John Thune (S.D.), the No. 2 Senate Republican (NBC News).

The Hill: Zelensky challenges the conscience of Congress.

Dan Balz: Zelensky puts Biden on the spot with his emotional speech to Congress.

Niall Stanage: Five takeaways from Zelensky's virtual address to Congress.

Federal News Service text of Zelensky's speech.

Across the Atlantic, Russian forces continued their assault on Ukraine on Wednesday, including destruction of a theater-turned-shelter for hundreds of people, including children, in port city Mariupol, according to the Ukrainian foreign ministry. According to The Associated Press, hundreds are reportedly trapped in the destruction.

Negotiators for Russia and Ukraine on Wednesday suggested some progress, including discussion of a tentative 15-point peace plan that would involve a cease-fire and a withdrawal of Russian forces, contingent on Kyiv declaring neutrality, among other items (Financial Times). Russian Foreign Minister Sergey Lavrov said that the neutrality stance is being "seriously discussed." Zelensky reportedly said Moscow's demands to end the war were becoming "more realistic" (The Associated Press). Those talks continue today.

The Wall Street Journal: Russia blames global sanctions for pushing the country toward its first default since 1998.

Axios: Ukrainians fear Russia diplomacy progress is a head fake.

The New York Times: As Russian troop deaths climb, morale becomes an issue, officials say.

Reuters: Why isn't the U.S. accepting more Ukrainian refugees?

The Associated Press: Berlin train station turns into refugee town for Ukrainians.
© Associated Press/Andrew Marienko
While Biden focused on U.S. efforts to help Ukraine, the Federal Reserve on Wednesday signaled it will assertively pull back its support for the economy.
The Fed warned that rising inflation means "hardship" for Americans for possibly the next few years and requires a series of seven interest rate hikes in 2022 aimed at lowering demand and prices while slowing the economy. The announcement by Fed Chairman Jerome Powell was anticipated by analysts and market watchers but spells political trouble for Democratic candidates who had hoped voters would feel more confident by November about prices that outstrip their wage gains and their economic futures.
Nonwhite voters are more likely than white voters to say the highest inflation in four decades is triggering major financial strain in their lives, and that appears to be giving Republicans an opening with a growing segment of the electorate that traditionally favors Democrats, the latest Wall Street Journal poll shows.
The New York Times: Higher interest rates make mortgages, car loans and borrowing by businesses more expensive, which slows consumption and investment, reducing demand in the economy and, it's hoped, surging prices.
Risks of rising U.S. unemployment and a slide into recession are not out of the question, according to some experts. However, the chairman said the central bank does not expect a recession this year. Powell described the U.S. economy as well positioned for an inflation-eradication battle waged with monetary weapons. The chairman said while expansion will slow from last year's 5.8 percent gross domestic product, the Fed's projection for U.S. growth is "still quite strong" (The Hill).
CNBC: U.S. stock futures moved modestly higher on Wednesday evening as investors digested the latest Fed projections. The Dow jumped 500 points after the Fed's move to raise interest rates for the first time since 2018.
© Associated Press/Brendan Smialowski, pool
📨 Introducing NotedDC: The Hill's curated commentary on the beat of the Beltway. Click here to subscribe to our latest newsletter.
POLITICS: Skyrocketing gas prices across the country are putting Democrats in a perilous position only months out from what was already shaping up to be a troublesome midterm election cycle.

The spike in prices is of particular concern to progressives, according to The Hill's Hanna Trudo. Specifically, progressive members and activists are worried that the sky-high cost of gas is crippling the country's more vulnerable populations and doing major harm to inequality, creating tension between those who want a bigger condemnation of the fossil fuel industry and others who are seeking a middle ground amid the Ukraine conflict.

While progressives argue, companies are starting to hike prices of their own in response to the increased gasoline costs. Lyft announced on Wednesday that it will add a $0.55 fuel surcharge to the price of each ride starting next week in a push to help its drivers offset rising fuel costs. The full amount will go directly to drivers, Lyft told The Hill.

The uptick at the pump has also put Democrats on the defensive due to the Biden administration's recent discussions with Venezuela as it seeks to obtain oil exports from the nation's vast reserves.

As The Hill's Julia Manchester and Max Greenwood note, the political impact will likely be felt hard in Florida, a state where Democrats are increasingly behind the eight ball and reeling from Latino voting defections after the 2020 election. Particularly, Democrats are worried about the GOP's messaging on socialism, as many Florida voters have ties to Venezuela, Cuba or other Latin American nations that are controlled by socialist regimes.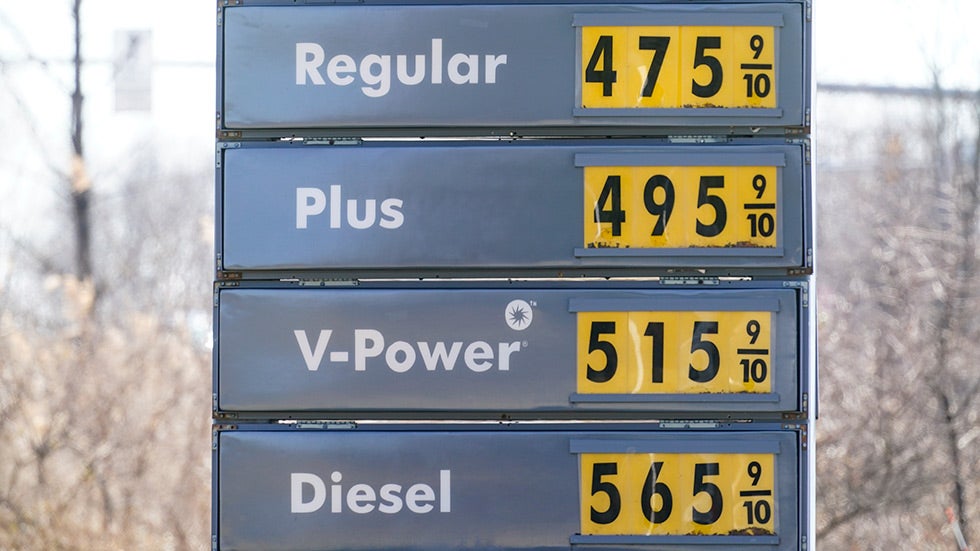 © Associated Press/Matt Rourke