Hispanics Targeted for Death by Abortion According to 2013 New Mexico Vital Statistics
By Tara Shaver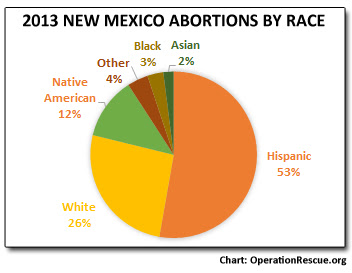 Albuquerque, NM- The New Mexico Vital Statistics has released its annual Selected Health Statistics Report that includes data on abortions performed in the state. This data shows that abortions in New Mexico increased 8% from 3,134 in 2012 to 3,408 abortions in 2013.
The report shows that minority Hispanic women are disproportionately targeted by the abortion cartel, accounting for 53% of all abortions in the state while Hispanics account for only 42.1% of the population.
In addition, abortions rose amongst Hispanic women by 9% from 1,643 in 2012 to 1,798 in 2013. This represented a larger percentage than the overall statewide trend.
According to Life Dynamics's report, "Racial Targeting and Population Control," New Mexico has the highest concentration of Hispanics of all 50 states.
Pro-abortion organizations like Planned Parenthood, Young Women United and even the University of New Mexico have exploited this demographic in the worst possible way by targeting them for elimination by abortion.
As documented in previous reports, the University of New Mexico has a sordid reputation of targeting Hispanics for elimination by abortion…