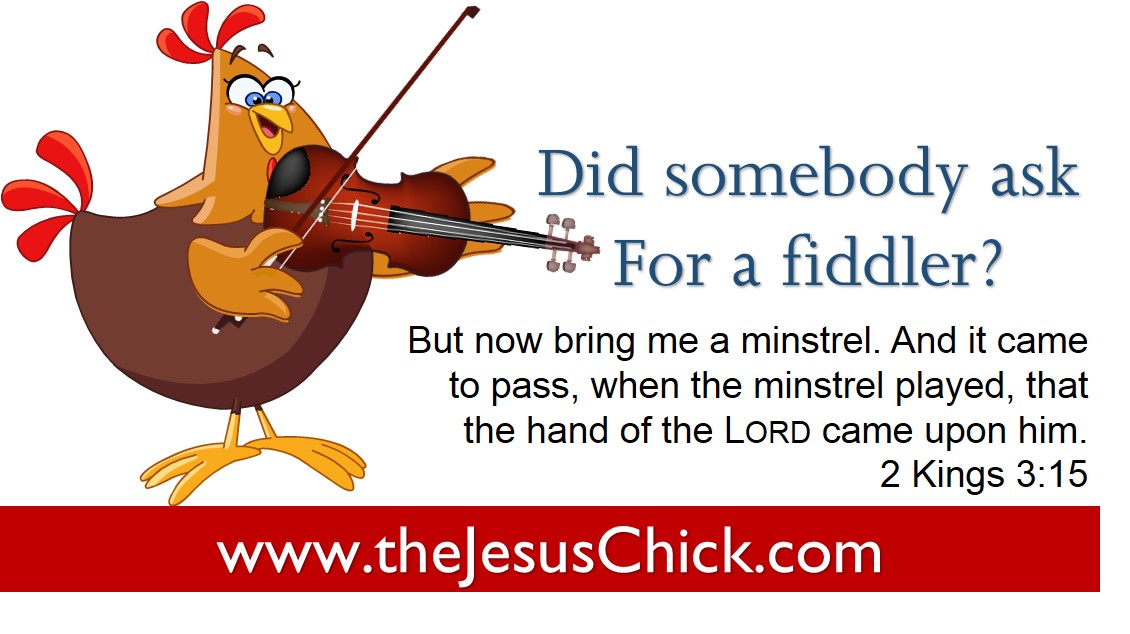 2 Kings 3:15
But now bring me a minstrel. And it came to pass, when the minstrel played, that the hand of the Lord came upon him.
One thing that will almost assuredly bring joy to my soul is music. And stringed music that much more; it's the basics that I love. So my "But Now" verse for today was literally music to my ear when I see the Lord setting the stage for victory through a bluegrasser! (Yes I know that's a stretch, but a girl can dream can't she?) Although it was harp that was played, it was still the foundation for the fiddle that would come along in the 16th century. And it matters not to me what particular instrument but rather the fact that God used it and my favorite thing in the world (the Word of God) together.
To set the stage for you in this text, it is the story of two Kings, normally at odds with one another. But this day they had formed an allegiance against a common enemy. King Jehoram of Israel met with Jehoshaphat king of Judah and together they met with the king of Edom and made this agreement in 2 Kings 3:7-8
And he went and sent to Jehoshaphat the king of Judah, saying, The king of Moab hath rebelled against me: wilt thou go with me against Moab to battle? And he said, I will go up: I am as thou art, my people as thy people, and my horses as thy horses. And he said, Which way shall we go up? And he answered, The way through the wilderness of Edom.
But as they traveled, 7 days into the journey they ran out of water and then began to wonder if it was God's will at all for them to go to this battle, and whether or not He had set them up to get them killed!
10 And the king of Israel said, Alas! that the Lord hath called these three kings together, to deliver them into the hand of Moab!
Ha! can I relate to that one. Halfway down any road in life I've asked myself that question, so you'll find me throwing no stones at the kings. But here they are at the crossroad of battling Moab or tuckin' their tales and turning home and they decide to seek the wisdom of God, which would come through, at that time, a man of God named Elisha. They're not as privileged as we who are saved today and seek God's wisdom from within.
I love Elisha's response when they arrive to ask him to seek God for them; he has to get at least one jab in to the king of Israel who at that time worshipped other gods. He promptly tells him if it wasn't for his buddy he'd not give him the time of day. That's Shari quoted… read it for yourself…
14 And Elisha said, As the Lord of hosts liveth, before whom I stand, surely, were it not that I regard the presence of Jehoshaphat the king of Judah, I would not look toward thee, nor see thee.
Elisha preached it like it was, and the king of Israel did not take him to a happy place. But here comes the fiddle! Okay it was a harp. But before Elisha gives them an answer he needs to set the tone for worship and he does that through stringed music. The rest of the story, they find water and they win the battle through the hand of God!
The lesson here? Before any battle, be it of flesh or foe we need to seek the Lord and we need to do so with a heart of worship. The Battle is His alone. Elisha set his mind on the things above by using the tools below. We have them at our disposal… we just fail to use them. One of my favorite fiddle pieces that would cause Squire Parsons to grimace at the least is "Beulah Land." Oh…. I have but to lay my bow to the string and draw the first note before God enters my presence… I think He likes Squire's song too.  Are you facing a battle and needing an answer? I suggest you take Elisha's advice and call the minstrel, and make sure it's a song God likes…
But now… Somebody get my fiddle.