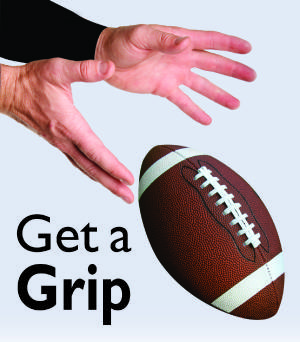 It likely will not be a shocker to anyone who knows me to hear me say that I'm not a sports fan. Sports has its place in life and God Bless those who enjoy it, but for me personally competitive games usually leave a bad taste in my mouth from the over zealous fans who take it a little too seriously. They watch a game like I watch a church service. I'm shouting hallelujah and encouraging God's man to get in their and give it his all for Jesus. There's nothing wrong with encouraging the home team, just don't be ugly about it and mean to the fans on the other team, after all we're all playing football, right? Yes… there was a hidden agenda in that analogy. But that's not my point in this blog; no shocker there either!
I was listening to someone talk about watching a game that had already been played and that the score was announced prior to the games airing. It changed his viewpoint of the game; when a guy dropped the ball or fumbled a play, there was no surprise. No fear of what the end result would be. He didn't scream at the players to do better, he didn't get upset when things went awry, the game was already over. I have to wonder how life would change if we viewed it from a game over prospective?
Genesis 22
1 And it came to pass after these things, that God did tempt Abraham, and said unto him, Abraham: and he said, Behold, here I am.

2 And he said, Take now thy son, thine only son Isaac, whom thou lovest, and get thee into the land of Moriah; and offer him there for a burnt offering upon one of the mountains which I will tell thee of.

3 And Abraham rose up early in the morning, and saddled his ass, and took two of his young men with him, and Isaac his son, and clave the wood for the burnt offering, and rose up, and went unto the place of which God had told him.

4 Then on the third day Abraham lifted up his eyes, and saw the place afar off.
I have to believe that when Abraham "saw the place afar off" that he had that game over prospective. He didn't know how the game was going to play out, but he knew the score. God, Abraham and Isaac 1, Satan 0.
I have a feeling Satan messed with Abraham's head all the way up that mountain. I figure Abraham did some serious praying and contemplating about the event to come. He had to have wondered what Sarah's reaction would be to the story. He was the man of the house, he was the man of God, but I don't figure Sarah would have been laughing about this message from Heaven as she did the day God told them of the coming birth of their son. Abraham may have even had one of those "What happens on the mountain stays on the mountain" conversations with Isaac. Just as Jehovah-Jireh was on the mountain, having provided a ram, God's got our sacrifice in the bush too. It's no coincidence that it was the third day that Abraham lifted up his eyes and saw the place afar off. Those three days that Christ spent in the grave, having took the keys of Hell from Satan was our game over experience.
What ever it is that Satan has planned to thwart the grand plan of God is a moot point. There may be a few fumbles on the play (on our side of course) but it won't change the ending score. How awesome is that thought today? I don't know about how it is for you but it brings great jubilation to my soul to know that no matter how the game looks in play… we win.
Yes I drop the ball, I go the wrong direction I have occasionally been the other team's best player, but God is my number one fan. He loves me, He created me and He's got me covered!