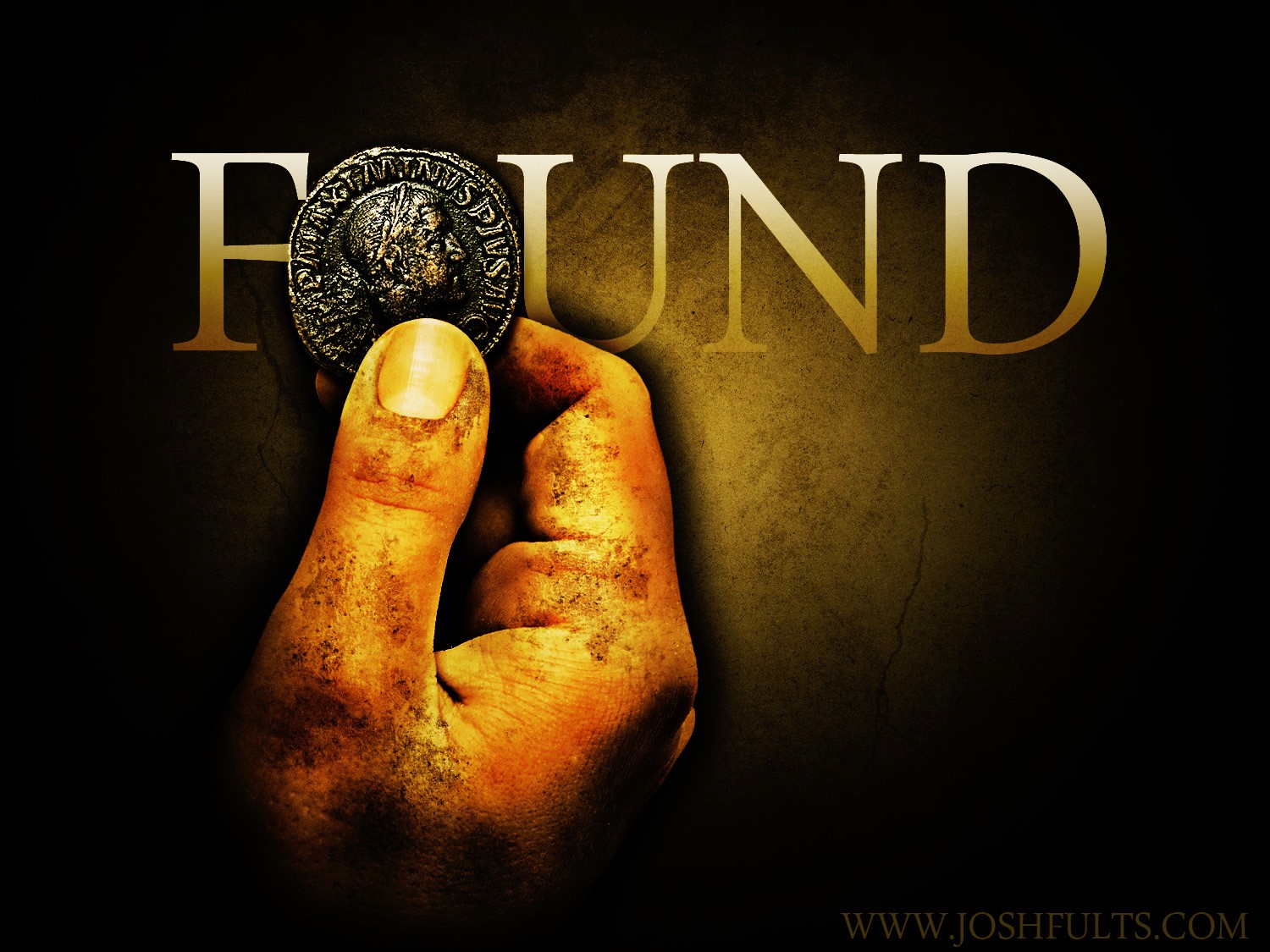 It may be my age, but it is more likely it's my nature that causes me to lie things down and forget where I put them. I'd venture to say that every day I misplace something at some point, and usually it's because I'm rushing about with too many things on my mind; scattered thoughts which tend to scatter stuff. So I "get" the woman who lost one of the ten pieces of money. She obviously wasn't rich, else it would not have been such a big deal, but this was a big deal! Because after she found it she called her friends and neighbors over for viddles on the veranda, or perhaps it was just three for tea, it doesn't go into much detail on the party, only to say that she had company… or comp'ny if you're from my neck of the woods.
Luke 15:8-10 ~ Either what woman having ten pieces of silver, if she lose one piece, doth not light a candle, and sweep the house, and seek diligently till she find it? And when she hath found it, she calleth her friends and her neighbours together, saying, Rejoice with me; for I have found the piece which I had lost. Likewise, I say unto you, there is joy in the presence of the angels of God over one sinner that repenteth.
There's various stages of emotions when a "lost coin" event occurs in your life.
The first stage is rather apathetic, "Eh, it'll turn up…"
The second is one of concern… "Wow, I can't believe I still haven't found it!"
Thirdly there's panic… "Oh my goodness, what am I going to do if I don't find it?"
Lastly there's great relief and rejoicing when it's been found, a "Hallelujah!" moment.
The problem with most people is we're not poor enough to appreciate what we have, so when we lose it we tend to stay in the "Eh" phase quite a while and sometimes never get to the concern or panic stage. And so is the dilemma with salvation. We're a blessed nation who lives in the "Eh, it's all good" phase. I have a house, a job, kids, food on the table, and someone to share it all with, I'm good! I'll find Jesus later. The problem with later is it's often when you're in a panic.
For the record, you won't "find" Jesus, he wasn't lost. He was merely pushed back into the recesses of your mind, covered over with all the worldly things you thought were important, or so it was in my life. Prior to salvation I would do and buy things thinking that one more thing was going to give me the satisfaction in life, only to discover there was still something missing. I tried to fill my life with people, activities, toys and hobbies; and as each one lost its luster I'd store it away somewhere. And Jesus would be further back in the stack. Until I could barely seem Him back there.
But then one day I discovered He was missing. I went to church and the Pastor mentioned His name. "Jesus." Woah!, something happened. He moved a little forward. There was a level of concern in heart. And then there was a level of panic… "What am I going to do if I die and I've yet to find Him." And then came the rejoicing! When Jesus found me. It turns out I was the one who was lost… I was the one who had put so much stuff between Him and me, that I'd lost my way.
There was a party going on in my heart! I was happy, I had to tell somebody! And there was a party going on in Heaven too. By the way… I'm still partying! So is Heaven. Won't you join me?