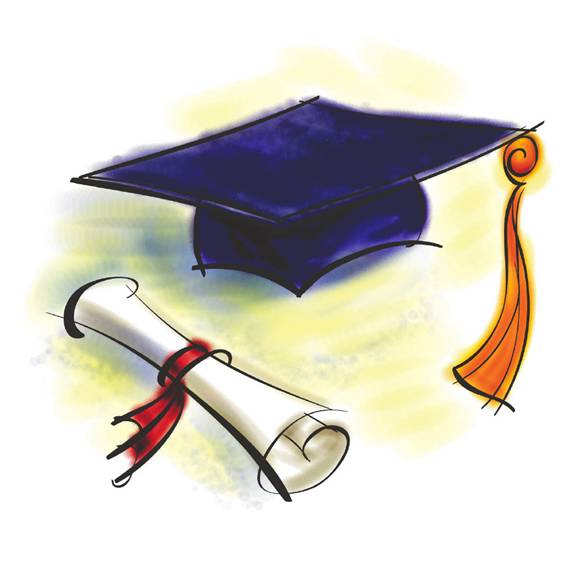 This morning I'm here to share with you something that's been on my heart to share for years, and I've not had the courage until today. When I read a post from a teen in my youth department who Satan was thumping on and who had the nerve to fight back, publicly. She's a senior in High School who beyond a shadow of a doubt has the talent to do or be anything she set her mind to, but she's choosing at this time not to go on to higher education but rather focus her life on being a woman of God, and perhaps a wife and mother a little further down the road. And because of her decision the world is berating her that she is less. My question to them is "Less than what?"
Here's my story. Unlike her I wasn't saved when I graduated High School, therefore I did not have the Holy Spirit within me giving me guidance, but that's not to say that I didn't have the Holy Spirit guiding me, because I fully believe He set a path in motion that would have been easier if He were within, but was fulfilled from without. I hope you got that. God had a plan… Jeremiah 29:11 says –For I know the thoughts that I think toward you, saith the Lord, thoughts of peace, and not of evil, to give you an expected end. ~ God had a plan that He allowed to come to fruition because I eventually did get saved; which God knew I would, that was the expected end He could see. And I believe the plan would have come together much nicer if I had gotten my heart right with Christ sooner.
But like this young lady much of my life was lived feeling inadequate because I didn't measure up to the world's standards. And some well-meaning people… and some, quite frankly, mean people contributed to that inadequacy with questions as to why I didn't continue my education, and still yet today ask that question of me. And still today when the question arises I feel less. Less than what? Less than God intended?
This is not an "anti-higher-education" blog. Praise the Lord for those who seek wisdom in specific fields. I don't believe any of us want a doctor or nurse who got their degree by filling out a form and paying a fee. No. We want well educated people. But I've seen plenty of well-educated miserable people who rather than following the Lord's will and plan for their life chose a profession based on status. Who felt that they'd never measure up in life unless there were some ABC's behind their name. And there were some who when having achieved the ABC's forgot the fundamentalism of life's purpose.
I've wanted to write this blog for months, but every time I put fingers to keyboard the fear of someone saying "You're writing this to justify yourself in a field you're not qualified for," came to mind and I just shut it down. Because the world had convinced me that they defined me. If I didn't have their piece of paper somehow I was less. Less than what?
This morning as I sought for answers I ran across Psalms 139 and discovered that I did indeed have a degree. Psalm 139:16 ~ Thine eyes did see my substance, yet being unperfect; and in thy book all my members were written, which in continuance were fashioned, when as yet there was none of them.
My name is written in a book in Heaven under "Child of God", but not only my name… "all my members were written down before I was born." My fingers were written down, they have a purpose, my eyes were written down, and so was my mind, and my legs and my toes…. Every member of this body has a purpose and a talent that no man can define. A degree is a unit of measurement, and I, Shari Johnson have abilities measured in Heaven which are limitless. So lesser than what?
If I fulfill the will of God in my life; His purpose… then when I get to Heaven and receive my final reward it won't hang upon a wall, but will be a crown of pure gold that I can lay down at the feet of my Savior.
Read on in Psalm:139 verses 17-18 ~ "How precious also are thy thoughts unto me, O God! how great is the sum o f them! If I should count them, they are more in number than the sand: when I awake, I am still with thee."