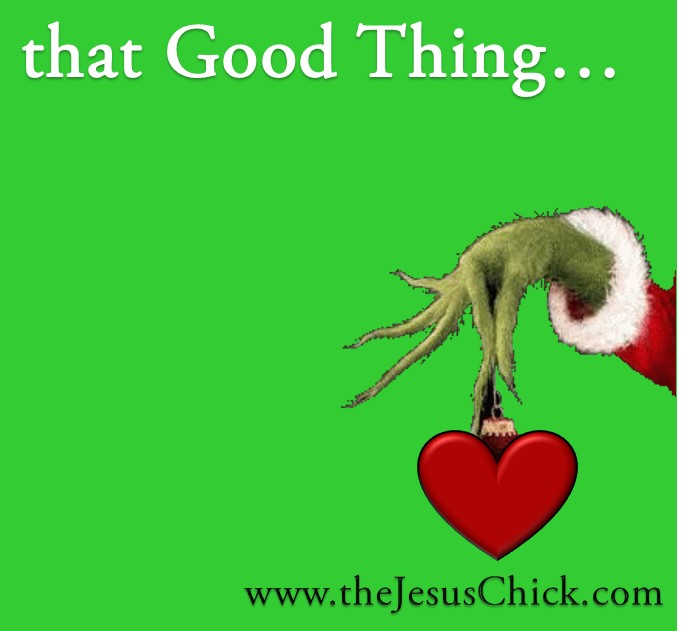 Every Christmas season the desire to "do good" abounds most every where; someone wants to see a smile on the face of a child or a family receive a gift of hope. Even the "grinchiest" of Grinch's find their heart enlarged when they discover "that Good Thing." And then there are those who continue to walk in blind rebellion and refuse to discover that "Good Thing" but would rather believe it is they that are good. My heart is saddened and I fear for those who created the Christmas campaign for Atheists, spending thousands of dollars (if not millions, I really have no idea) to convince the world that Christ is a myth and "reason" not "The Reason" of Christmas should be celebrated. It is my prayer that actress Julia Sweeney who arrogantly and using the name of God in vain, proclaimed on a billboard in Times Square of New York City that "There is no God," will discover the goodness of God before she finds herself kneeling before the One she said did not exist.
It is only the goodness of God that allows us to breathe one more breath and that God does not annihilate us from the face of the earth when yet another billboard taunts our faith with the remark "8712 inches per hour = nonsense, what other biblical nonsense is there?" referring to the rain in Noah's day. It's a good thing God is good, else the first bucket of the next load would be dumped on their house with no ark in sight. That is why we read in Matthew 19:16-17 ~ "And, behold, one came and said unto him, Good Master, what good thing shall I do, that I may have eternal life? And he said unto him, Why callest thou me good? there is none good but one, that is, God: but if thou wilt enter into life, keep the commandments." With the arrogance and ignorance of mankind there would be no hope of Heaven without the goodness of God Who knows us, and loves us anyway. He, Who from the beginning of time knew of our weakness to keep the law and made a means for redemption which was that "Good Thing"  prophesied in Jeremiah 33:14 ~ Behold, the days come, saith the Lord, that I will perform thatgood thing which I have promised unto the house of Israel and to the house of Judah.
That Good Thing promised was the Messiah! The same Who now dwells within the child of God and as Paul reminded Timothy in 2 Timothy 1:13-14 when he said ~ Hold fast the form of sound words, which thou hast heard of me, in faith and love which is in Christ Jesus. That good thing which was committed unto thee keep by the Holy Ghost which dwelleth in us.
Paul knew how hard it would be to keep hold of sound doctrine in a world that is anything but good. They may not have had billboards in biblical times but they had their version of Julia Sweeney. I'm so thankful this Christmas for saints of God who risk and give their lives to share the gospel of that Good Thing. Hallelujah for that Good Thing that have to look forward to because of that Baby in the manger, the Man of Galilee, the Savior on the Cross of Calvary.
Hebrews 9:11-12
 But Christ being come an high priest of good things to come, by a greater and more perfect tabernacle, not made with hands, that is to say, not of this building; Neither by the blood of goats and calves, but by his own blood he entered in once into the holy place, having obtained eternal redemption for us. For if the blood of bulls and of goats, and the ashes of an heifer sprinkling the unclean, sanctifieth to the purifying of the flesh: How much more shall the blood of Christ, who through the eternal Spirit offered himself without spot to God, purge your conscience from dead works to serve the living God?